Cosmetic Dentistry Services in Kelowna, BC
Are discoloured, yellow, misshapen, or crowded teeth getting in the way of your self-confidence? At Kelowna Dental Centre, we offer a long list of signature cosmetic dentistry services designed to provide you with effective, safe, and rapid results.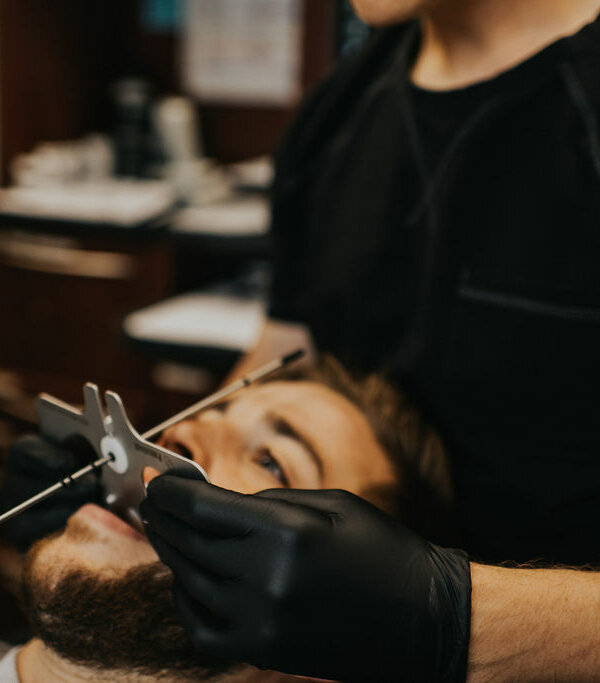 Benefits of Choosing KDC
Internationally-trained dentists and specialists

Start-to-finish dental implants

Safe, effective sedation dentistry for anxiety and special healthcare needs

Timely appointments that suit your busy schedule

Flexible financing options

Cutting-edge technology
Transformative Dentistry
During your consultation, our doctors will utilize intraoral technologies, projecting your problem areas on a television screen to give you a complete view of your current smile and an explanation of how we can improve it. If your cosmetic dentistry procedure requires crowns or dental implants, we will use a needle-free laser for a more comfortable experience.
Has anxiety kept you away from the transformative dental care you desire? Our team offers a range of sedation dentistry options with treatment plans custom-designed for your health and smile.
Restorative Dental Implants
Did you know that dental implants are the only permanent solution to tooth loss on the market today? Whether you are missing one tooth or all your teeth, these natural-looking restorations are designed to give you your smile back.
Tooth implants consist of titanium or ceramic posts implanted into the jawbone where luminous crowns are attached for a seamless look. Unlike traditional removable dentures, dental implants are fixed and permanent, meaning they don't require a special diet, sticky adhesives, or daily removal. Even better, the restorations promote growth in the jaw bone for stronger facial muscles and a healthier smile, all-around.
We offer the following dental implant systems at our Kelowna dentist office:
All-on-4® Dental Implants
Hybridge Dental Implants
Hybrid Dental Implants
Mini Implants
Overdentures
Implant-Retained Dentures
As a one-stop shop, at Kelowna Dental Centre you will never need to attain a referral for preliminary procedures or dental implant placement. We have the technologies and expert know-how to complete each facet of dental implant treatment in-house.
Facial Esthetics / BOTOX®
Interested in BOTOX®? Kelowna Dental Centre makes the process safe and simple.
BOTOX® is an injectable designed to optimize esthetics and treat the painful symptoms of TMJ disorder. Typically, it lasts between 3-6 months and tends to last longer as regularly-scheduled treatments progress.
Dr. Abel offers BOTOX® to a range of patients with a range of different goals. The treatment only takes a few minutes to complete – it's easy to request BOTOX during your preventive checkup or as part of your complete smile makeover. Together, with convenient services like teeth whitening, teeth bonding, or dental veneers, we can transform your smile and alleviate the symptoms of TMJ disorder.
Invisalign® Clear Aligners
Dr. Abel and Dr. Orth are our in-house Certified Invisalign® Providers. Using special techniques and technologies, they create custom teeth aligners. Since they are nearly invisible and can be removed when needed, these clear teeth aligners serve as a comfortable, discreet alternative to traditional metal braces.
Once the doctor determines that you are a good candidate for Invisalign®, they will create a series of clear teeth aligners that are so discreet they practically appear invisible. Typically, each set of these clear braces is worn for about two weeks before being traded in for a new, snugger-fitting clear aligner.
On average, Invisalign treatment takes 12 to 18 months to complete, though you can expect to see straighter teeth within your first few weeks.
Invisalign treatment is designed to correct the following orthodontic conditions:
Crooked Teeth
Overbites
Underbites
Crossbites
Gaps Between Teeth
Open Bites
Crowded Teeth
Misshapen Teeth
With Invisalign®, you can expect the same strengthening power as traditional metal braces without the need for uncomfortable and distracting brackets and wire.
Porcelain & Composite Dental Veneers
porcelain dental veneers are ultra-durable, long-lasting, and are custom-crafted to fit each patient's unique appearance and desired aesthetics. Unlike other veneer systems, porcelain veneers deliver the most natural-looking results and when they are cared for properly, they can last decades.
Almost anyone with healthy, strong dentition who wishes to have a more beautiful smile can potentially be a candidate for porcelain teeth veneers. They serve as an optimal cosmetic solution for patients who have the following concerns:
Dental stains and discolouration. Especially discolouration that does not respond to whitening treatments
Mild to moderate tooth misalignment
Gaps and spaces between teeth
Chipped or cracked teeth
Worn, short, uneven, or irregularly shaped teeth
Enamel erosion
During a preliminary consultation, one of our dentists will listen to your concerns and perform a comprehensive dental examination to determine if porcelain veneers, another procedure, or a combination of treatments is the best approach for achieving your goals.
In-Office & Take-Home Spa Dent Teeth Whitening
Over time, stains and discolouration can occur on the teeth for multiple reasons, including eating dark or staining foods, tobacco use, medication, and advanced age. Fortunately, our dentists can quickly brighten your teeth using the Spa Dent Naturals professional teeth whitening system.
Choose from our rapid in-office teeth whitening treatment or our convenient at-home treatment. Either way, you can expect rapid, healthy results and a brighter smile that is shades whiter!
Complete Smile Makeovers
A smile makeover combines restorative and cosmetic dental procedures to restore – or even create – a beautiful, natural-looking smile designed just for you.
Your smile makeover may consist of several treatments made to improve the look and health of your teeth, lips, gums, and full facial appearance, including:
Teeth Whitening
Dental Implants
Porcelain Or Composite Veneers
Tooth-Coloured Dental Fillings
Luminous Dental Crowns
Dental Bonding
Laser Gum Sculpting
Smoothing Injectables For Facial Esthetics
Other
Cosmetic dentistry is often referred to as the intersection between science and art, and we understand the importance of beautifully functioning teeth. We make it a point to tailor our services to our patients' needs, even if what you're looking for isn't a common cosmetic treatment. We know that every patient is different and we pride ourselves on giving you exactly what you're looking for. Let's redesign your smile together.
Full-Mouth Rebuild
Do you feel as though your smile is beyond repair? At Kelowna Dental Centre, we custom design a treatment plan using various types of restorative treatments to revitalize your overall oral health. 

The extent of your rebuild, both the upper and lower jaws, will depend on the severity of oral damage. 

The problems we commonly treat include: 
Damaged teeth
Tooth decay
Missing teeth
Periodontal disease
Gum recession
TMJ disorders (TMD)
Our People
Our people embody the patient-centric culture and our commitment to being excellent stewards of your health that are key to Kelowna Dental Centre's code of conduct.
We understand that dentistry can be emotional, and preventative barriers may impede individuals from getting the care they need – that's precisely why Kelowna Dental Centre was founded first on genuine, caring people. Our team shares a deep passion for helping others while delivering excellence in innovative dental care.
Meet our team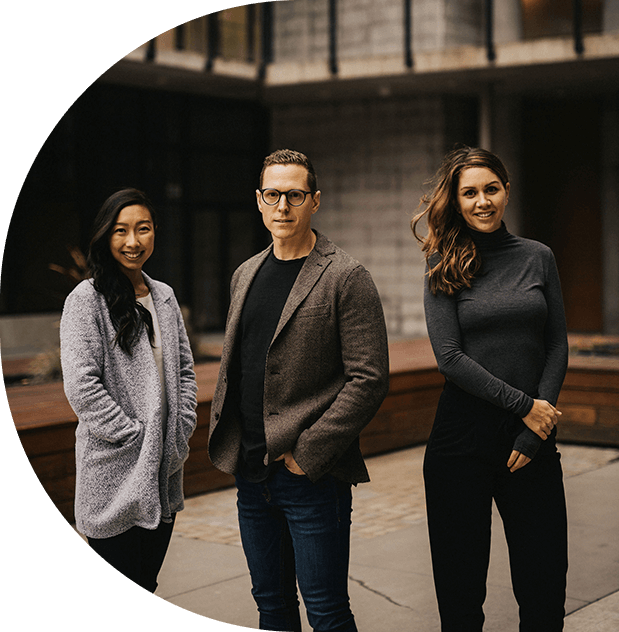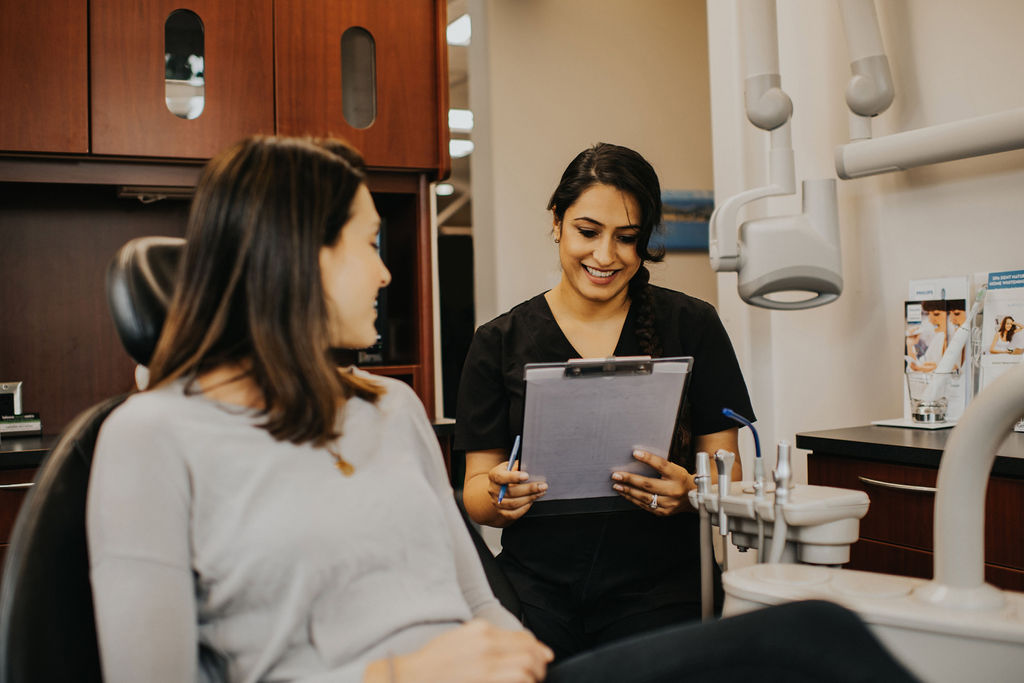 Questions? Contact Our Team
At Kelowna Dental Centre, we believe you and your family deserve comfortable, personalized, and overall superior dental care. Get in touch with us today to learn more.
Contact Us