Preventive Dentistry
Kelowna Dental Centre offers all aspects of examinations and cleanings with a focus on prevention. During your regular preventive checkups and cleanings, our doctors will look, not only at your teeth, but also your gums and bone, your bite and jaw joint, as well as your bite.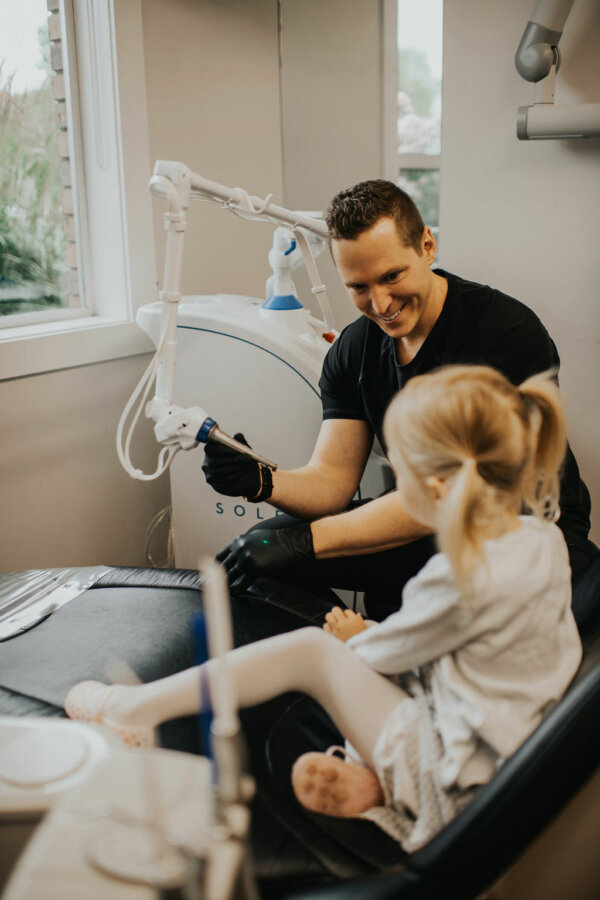 Benefits of Choosing KDC
Internationally-trained dentists and specialists

Start-to-finish dental implants

Safe, effective sedation dentistry for anxiety and special healthcare needs

Timely appointments that suit your busy schedule

Flexible financing options

Cutting-edge technology
Speciality
Preventive Dentistry
Our team sees patient education as a cornerstone of our practice. By following this, we partner with you to treat these conditions and, more importantly, how to prevent them from occurring in the first place.
With all of our dental services, our team offer sedation dentistry options for those with dental anxiety or special healthcare needs. If this sounds like you, know that we'll work with you to select a safe option that is healthiest and most beneficial for you.
Keep Your Whole Body Healthy With Regular Dental Exams & Cleanings
Even if you take excellent care of your teeth and gums at home, the Canadian Dental Association still recommends that you see a dentist at least twice-yearly. Our team puts in the work, using microscopic technologies to check for problems that may be hard to see, or even those that are impossible to see without the use of special imaging technologies.
Because many dental problems don't become visible or cause pain until they are in more advanced stages, it is imperative that you receive treatment sooner rather than later. Furthermore, there is a proven connection between the health of your mouth and many other conditions throughout the body including heart disease, diabetes, cancer, arthritis, bone loss, premature and low-birth babies , to name a few.
Get An In-Depth View of Your Smile With Digital X-Rays & Cone Beam 3D CT
Radiographs are an important part of your regular dental visits. Dental X-rays are necessary to help diagnose damage and disease not visible to the naked eye. How often X-rays should be taken depends on your present oral health, your age, your risk for disease, and any signs and symptoms of oral disease. For example, children may require X-rays more often than adults because their teeth and jaws are still developing and their teeth are more likely to be affected by tooth decay than those of adults.
If you are a new patient, the dentist may need current images to determine the present status of your oral health and have a baseline to help identify changes that may occur later. A new set of X-rays may be needed to help your dentist detect any new cavities, determine the status of your gum health or evaluate the growth and development of your teeth.
Dental radiographs are considered very safe, though they do require very low doses of radiation exposure which makes the risk of potentially harmful effects very small. Kelowna Dental Centre takes every precaution such as proper shielding to ensure radiation exposure is as low as reasonably achievable. Dental x-rays are one of the lowest radiation dose studies performed. A routine exam which includes 4 images is about the same exposure as a short flight (~1-2 hrs).
Kelowna Dental Centre uses digital technology which further reduces the exposure to much less radiation than traditional film x-rays. In fact, digital images use up to 90 percent less radiation than film X-rays, and they are more environmentally friendly.
Our team uses this cutting-edge dental technology for precise diagnosis and dental treatment planning. This special type of imaging tool also emits less radiation, for a healthier, more rapid assessment process.
Our cone beam 3D imaging system is used for dental services like:
– Dental Implants
– Restorative Dentistry
– Cosmetic Dental Treatments
Gum Disease Treatments For Improved Health
Healthy gums are firm and pale pink. If your gums are puffy, dusky red and bleed easily, or show other signs or symptoms of periodontitis, see your dentist soon.
Periodontitis is a serious gum infection that damages the soft tissue and destroys the bone that supports your teeth. Periodontitis can cause tooth loss or worse – an increased risk of heart attack or stroke and other serious health problems.
Caught in the early to moderate stages, the doctor will prescribe a schedule of regular professional cleanings to interrupt the progression of the disease. The goal of periodontitis treatment is to thoroughly clean the pockets around teeth and prevent damage and death of the surrounding tissues and bone. At 2 – 4 month intervals (depending on the severity of the disease) your hygienist will perform the following treatments;
– Scaling – Scaling removes tartar and bacteria from your tooth surfaces and beneath your gums. It may be performed using instruments or an ultrasonic device.
– Root Planing – Root planing smoothes the root surfaces, discouraging further buildup of tartar and bacterial endotoxin.
– Antibiotics – Your dentist may recommend antibiotics to help control bacterial infection. Antibiotics may be necessary to completely eliminate infection-causing bacteria.
The sooner you seek care, the better your chances of reversing damage from periodontitis, potentially preventing complications and other serious health problems. You have the best chance for successful treatment when you maintain your regimen of professional cleaning and adopt a daily routine of good oral care, including regularly brushing, flossing and rinsing together with following a healthy diet.
Protect Your Pearly Whites With A Custom Mouth Guard
Custom athletic mouthguards are the best line of defense against tooth loss for athletes of all ages. As a bonus, they also protect the wearer from developing concussions!
And, if you suffer from bruxism (grinding while you sleep), our Kelowna dentists can make you a custom nightguard to give you the relief you deserve.
Schedule Your Preventive Care & Hygiene Visit Today!
Are you or your family members overdue for a preventive dental exam and cleaning? Call our Kelowna dental office today to schedule your appointment!
Preventive Teeth Cleanings & Comprehensive Dental Examination
Keep Your Whole Body Healthy With Regular Dental Exams & Cleanings. Even if you take excellent care of your teeth and gums at home, the Canadian Dental Association still recommends visiting a dentist at least twice yearly. Our team uses microscopic technologies to check for problems that may be difficult to see with the naked eye, as well as specialized imaging technologies to identify issues otherwise unseen.
Our People
Our people embody the patient-centric culture and our commitment to being excellent stewards of your health that are key to Kelowna Dental Centre's code of conduct.
We understand that dentistry can be emotional, and preventative barriers may impede individuals from getting the care they need – that's precisely why Kelowna Dental Centre was founded first on genuine, caring people. Our team shares a deep passion for helping others while delivering excellence in innovative dental care.
Meet our team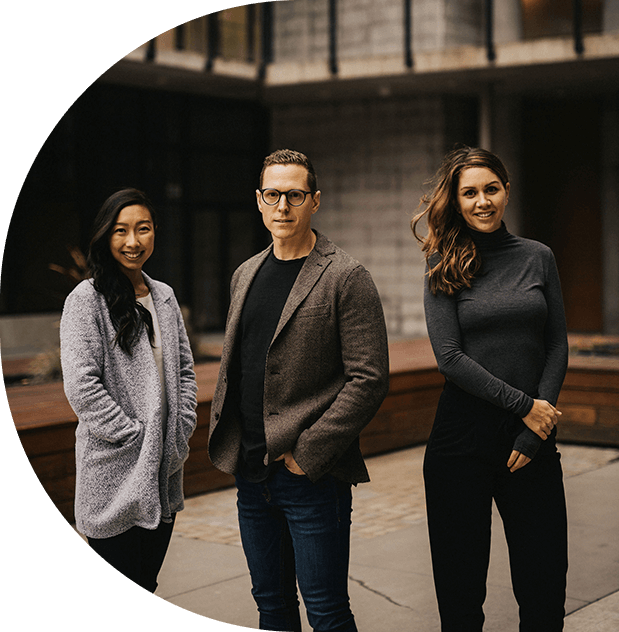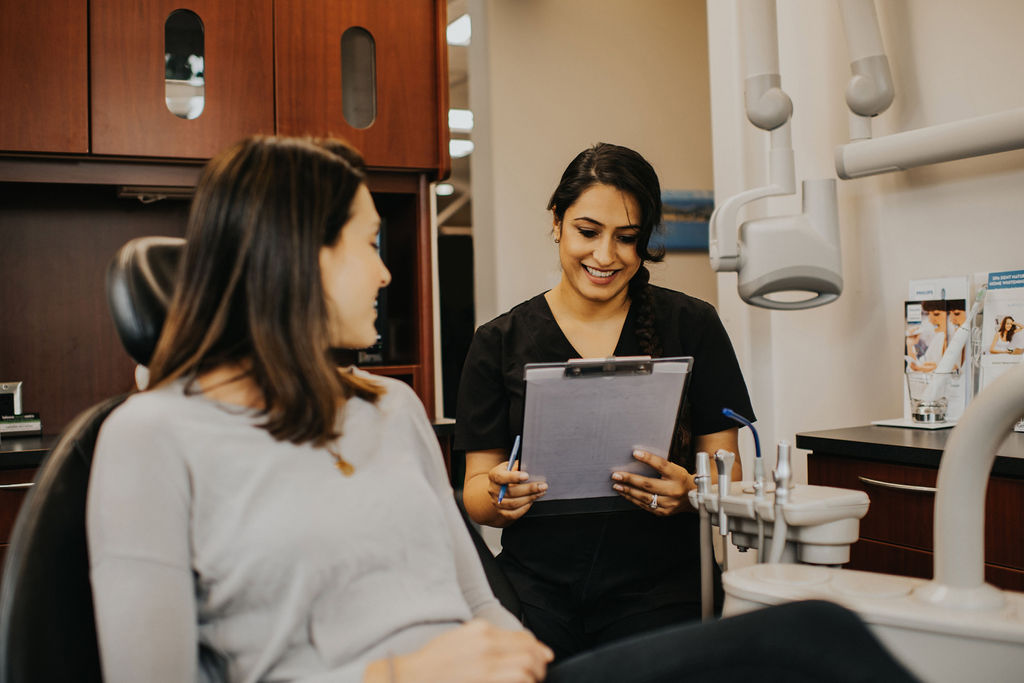 Questions? Contact Our Team
At Kelowna Dental Centre, we believe you and your family deserve comfortable, personalized, and overall superior dental care. Get in touch with us today to learn more.
Contact Us