I'm Dr. Michael Webster, Dental Implant Dentist and Owner at Kelowna Dental Centre. Welcome to my comprehensive guide on dental implants – one of my favourite topics in the profession.

Nobody should suffer from the pain, discomfort, and distress caused by missing teeth. But did you know that implants are the only permanent tooth replacement alternative available today?

Dental implants are one of dentistry's most talking points, and here, we'll tell you everything you need to know and hopefully answer some of your most pressing questions along the way: First off, what are dental implants? Are dental implants right for me? How much do dental implants cost? What is the dental implant procedure like? Do dental implants hurt? And what are the primary aesthetic, functional, and psychological benefits associated with dental implants?

Brace yourselves as we explore dental implants in-depth, their benefits, and the extraordinary results you can expect at Kelowna Dental Centre.
What Are Dental Implants?
A dental implant is a prosthesis that seamlessly integrates with the jaw or skull bone, providing stable support for various dental restorations. Dental implants are vital to restoring smiles and serve as a reliable orthodontic anchor, whether it's a crown, bridge, denture, or even a facial prosthesis.

The dental implant procedure involves surgically placing titanium posts into the jawbone, creating the foundation needed to securely attach aesthetic restorations like crowns, dentures, or porcelain bridges.

As a skilled, experienced, and globally educated implant dentist, I consistently replace missing teeth with durable, implant-supported restorations that function and feel like natural teeth.

All in all, dental implants work to improve your smile, help preserve jawbone health, and prevent further tooth loss.
Who Are Dental Implants For?
Ideal dental implant candidates require tooth replacement for one or multiple teeth, are in good overall health, and have adequate jawbone density to support an implant or multiple implants.

Here are a few examples to assess your fit for dental implants:
If you have missing teeth that need replacing
If you have individual teeth that are misaligned and want a faster solution than traditional teeth-straightening methods
If you currently wear unsupported dentures and want a more permanent, durable, and better-looking solution with improved functionality
If you have any inconsistencies in the size, shape, or color of your teeth, or you have irreparable tooth decay
If you're unsure whether or not dental implants are right for you, contact us!
Dental Implant Benefits
Dental implants bring many aesthetic, functional, and psychological benefits – they genuinely have the potential to measurably improve a patient's quality of life.

The functional benefits of dental implants are remarkable. Dental implants can significantly improve chewing and speaking abilities, ensuring optimal oral function in day-to-day settings. They can also help prevent potential dental problems in the future, promoting sustainable, long-term oral health.

Here are some more functional benefits commonly experienced with dental implants:
Improved teeth and jaw functionality, enabling improved chewing ability
Improved speech
Reduced pain and discomfort
Preservation of jawbone health
Prevention of further tooth loss
In the case of implant-supported dentures vs. unsupported dentures, an improved ability to break down and digest nutrients
When it comes to aesthetics, dental implants can also help create a beautiful, natural-looking smile. If you're missing teeth or are considering a smile makeover, dental implants will be at the core of any treatment plan you'll pursue, whether you're looking to enhance the color, shape, or alignment of your teeth.

Psychologically, dental implants make a huge difference, too. Many people who need dental implants have hidden their smiles for years. The aesthetic transformation they see with dental implants can create renewed self-esteem. It can be genuinely life-changing as patients regain their ability to smile, feel more comfortable in social settings, and pursue their goals with newfound confidence.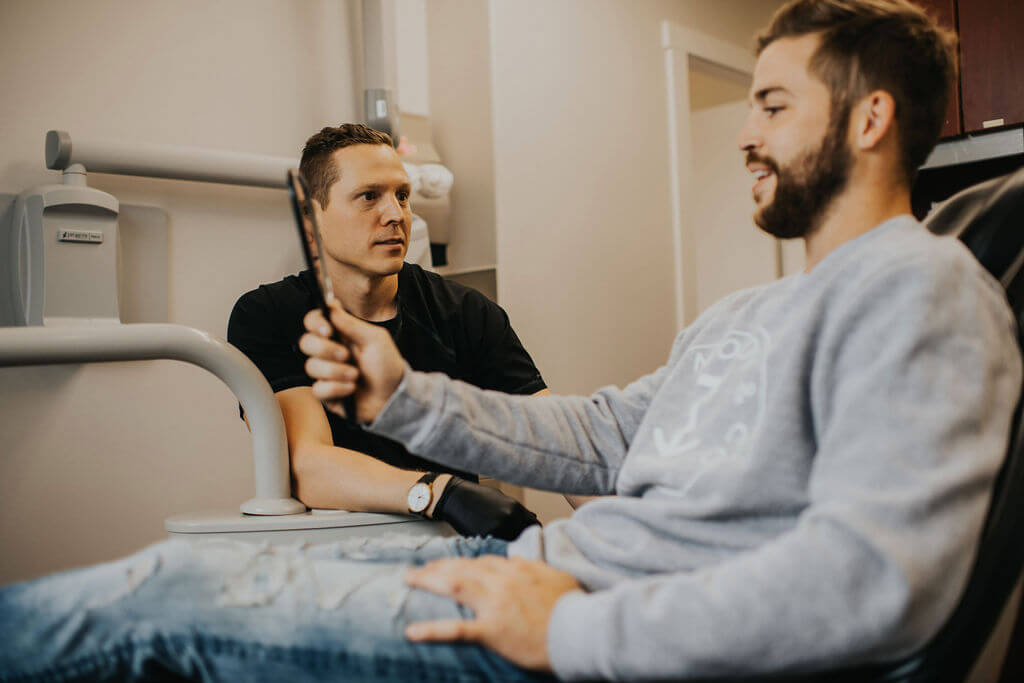 Types Of Dental Implants
There are many forms of dental implantation. Which is best depends on factors like bone density, the patient's desired outcomes, and overall oral health goals. If you have any bone degeneration in your jaw and traditional implants can't be placed, there are other innovative implant options that might suit you. Our Kelowna Dental Centre team will assess your teeth, jaw health, and overall goals to identify the best dental implant plan for you.

Let's explore (some of) the types of dental implants:
All-on-4 Dental Implants
All-on-4 Dental Implants allow for a complete arch restoration using four strategically placed implants. This procedure offers significant advantages, including reduced treatment time, enhanced stability, and improved chewing function. All-on-4 implants are ideal for patients with significant tooth loss who desire a fixed set of teeth that closely resemble natural teeth.
3-on-6 Dental Implants
Similar to All-on-4, 3-on-6 Dental Implants provide a fixed bridge restoration for individuals missing multiple teeth. This approach uses six implants to support a bridge, replacing three missing teeth. This method is suitable when a patient's jawbone and oral anatomy allow for the placement of six implants, providing increased stability and functionality.
All-on-X Implants
The All-on-X Dental Implant concept refers to the combination of the All-on-4 or 3-on-6 techniques with additional implants for increased stability and support. This approach allows for customized implant placement based on the patient's specific requirements, ensuring optimal outcomes.
Implant-Supported Dentures
Implant-supported dentures combine the benefits of dental implants with dentures. By securely attaching dentures to implants, patients experience enhanced stability, allowing them to comfortably chew and speak. This approach is particularly beneficial for individuals with loose or ill-fitting dentures, improving their quality of life and restoring confidence. When dentures are attached to implants, their functionality increases significantly. Patients can regain the ability to chew any food they want and adequately break down and absorb the nutrients from their food.
Implant-Supported Bridges
Implant-Supported Bridges are an excellent option for individuals missing several adjacent teeth. Instead of relying on adjacent healthy teeth for support, dental implants are placed at either end of the gap to support the bridge. This approach ensures greater stability, longevity, and preservation of neighbouring teeth.
Endosteal and Subperiosteal Implants
Endosteal implants are the most common type of dental implant, consisting of a titanium screw placed directly into the jawbone. They require adequate bone density for successful integration. Subperiosteal implants, on the other hand, are suitable for individuals with less bone density.
Pterygoid and Zygomatic Implants
Pterygoid and Zygomatic implants are advanced alternatives for patients with severe bone loss in the upper jaw. Pterygoid implants anchor into the pterygoid bone, located behind the upper jaw, while zygomatic implants are anchored in the zygomatic bone, which extends from the cheekbone. These implants provide stability and allow for the successful placement of prosthetic teeth, even in cases where conventional implants are not possible.
Nasal Rim and Nasal Spine Implants
Nasal Rim and Nasal Spine Implants are specialized implants employed in cases where the loss of upper teeth has resulted in the collapse of the nasal cavity, affecting nasal support and appearance. These implants restore the structure of the nose, providing both aesthetic and functional benefits.
Immediate vs. Delayed Implants
Immediate (or same-day) implants involve the placement of dental implants immediately after an extraction. This technique eliminates the need for multiple appointments and procedures, delivering instant aesthetic enhancements. Delayed implants involve a longer waiting time (usually 4-6 months) between extraction and insertion to allow for suitable healing in more challenging cases.
How Much Do Dental Implants Cost?
We often get asked, "How much do dental implants cost?" And the truth is no two dental implant treatment plans are identical. At Kelowna Dental Centre, we acknowledge and appreciate the complexity of each patient's oral health and overall situation. The genetic, microbial, and environmental factors that shape a person's mouth are distinctive and can even vary within their oral ecosystem from one day to another.

So, in short, it depends. And while exact costs fluctuate depending on individual needs and biological factors, it's crucial to understand the value and long-term benefits that dental implants offer. For example, implant-supported dentures are far more cost-effective in the long run than unsupported dentures because they reduce the need for repair and replacement.

Our team at Kelowna Dental Centre will provide a detailed breakdown of the cost during your personalized consultation, ensuring transparency and helping you make an informed decision about your dental health. We're also extremely proud to offer in-house dental financing that allows us to work with any budget to make your dream smile attainable. We can guide you through the process and explore the financing solution that suits your needs.
Do Dental Implants Hurt?
Like any invasive medical procedure, it's reasonable to expect some tenderness following your dental implant surgery. The good news is that, in most cases, our patients can plan on returning to work and their daily activities the very next day! Remarkable, right? The healing and aftercare process, which we customize for every single patient, is also usually manageable with over-the-counter pain relief.

At Kelowna Dental Centre, we offer a range of sedation dentistry options to eliminate pain and sensation during the procedure itself. Patients may sometimes feel some pressure during the procedure, depending on which sedation method they opt for, but it won't be painful.
Dental Implants: Before & After
Imagine the remarkable journey of transitioning from gaps in your smile, the constraints of conventional dentures, or other oral health concerns to a complete set of teeth that replicate the appearance, sensation, and functionality of natural ones. The exceptional transformations accomplished through dental implants at Kelowna Dental Centre are awe-inspiring.

Explore more of our dental implants before and after cases in our Transformation Gallery.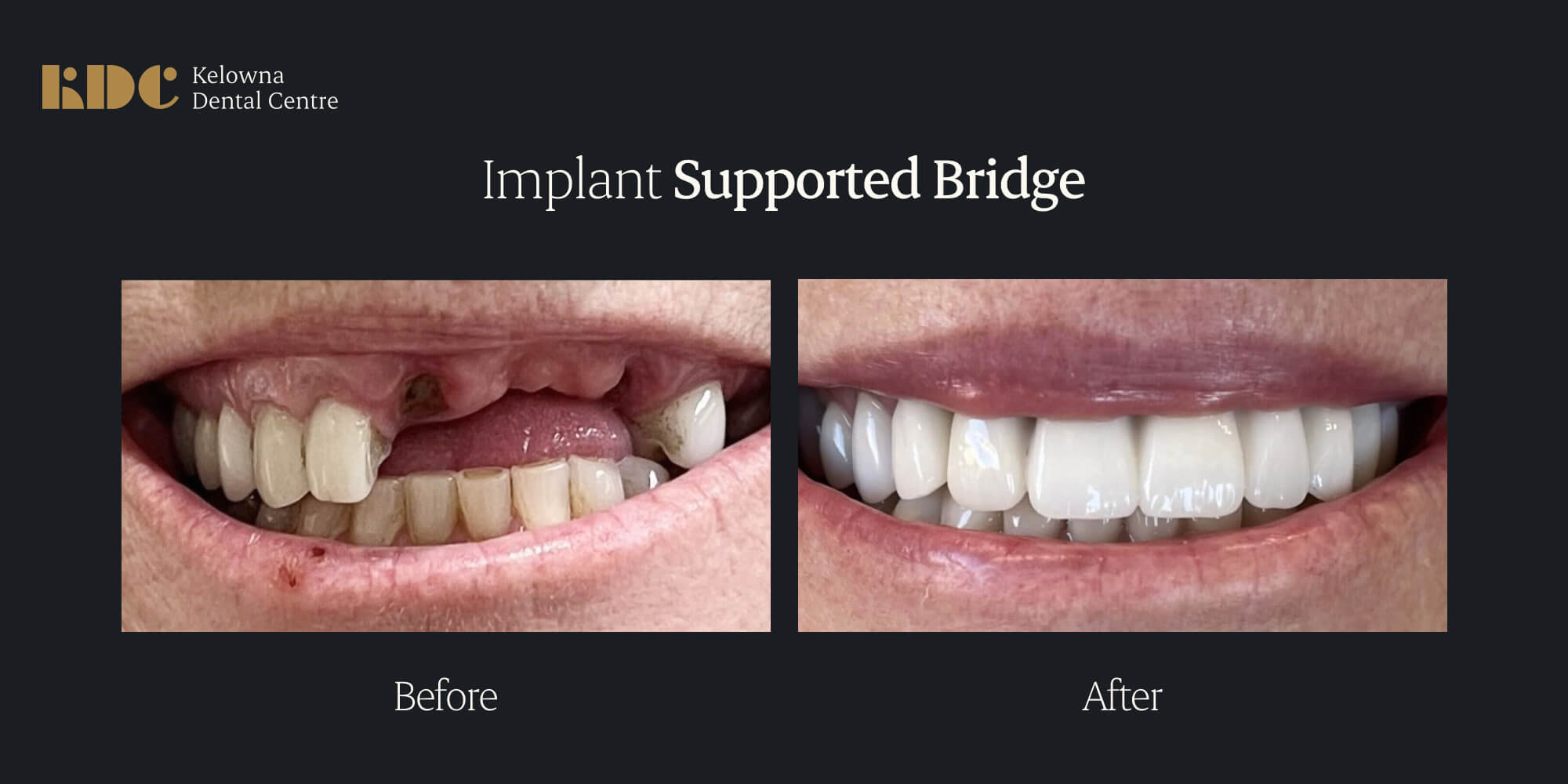 Ready for Dental Implants to Change Your Life?
So there you have it – the all-inclusive, in-depth guide to dental implants. I could go on ad nauseam about dental implants, but we only have so much time in the day – I'm usually pretty busy placing implants myself!

Overall, here are some key things to remember:

– Dental implants are the only permanent tooth replacement alternative available today, creating natural-looking, long-lasting results that feel and function like natural teeth
– Dental implants offer a series of aesthetic, functional, and psychological benefits while improving a patient's quality of life
– There are many different kinds of dental implants, and costs vary from case to case
– The best type of dental implant for you will depend on a series of factors, and our team of highly-skilled, experienced dental professionals always provides personalized care to help you achieve the smile of your dreams.

If you have more questions about dental implants, contact Kelowna Dental Centre today – we're here to help and can't wait to care for you.

Click Here to book an appointment or consultation.

Dr. Michael Webster

Kelowna Dental Centre Owner
Dental Implant Dentist
Dental Implants Kelowna
Dental Implants
Dental Implant