Dr. Michael Webster here, your trusted Implant Dentist and Owner at Kelowna Dental Centre! Today, I'm excited to discuss implant-supported bridges, a remarkable dental restoration option for individuals with multiple missing teeth.

An implant-supported bridge utilizes dental implants to provide a strong and reliable foundation for a dental bridge, restoring your smile's functionality and aesthetics. Let's explore what implant-supported bridges are, their benefits, and how they can transform your oral health.
What is an Implant-Supported Bridge?
An implant-supported bridge is a restorative procedure designed for individuals with two or more missing teeth. During the implant-supported bridge procedure, I will place dental implants on each side of the bridge. These implants, typically made of titanium, act as artificial tooth roots that are surgically inserted into the jawbone. By integrating with the bone, the implants prevent jawbone loss, ensuring a sturdy foundation for the bridge. The number of titanium posts used will determine the size of the bridge. Unlike traditional bridges that rely on neighboring natural teeth for support, an implant-supported bridge depends solely on the titanium rods in the jawbone. This approach offers numerous advantages, including improved stability and durability.

The process of placing an implant-supported bridge typically involves two procedures with some recovery time in between. The first step is the implantation of the titanium rods, followed by the placement of abutments. Finally, the crown is attached to the abutments, usually after two weeks. Unlike traditional bridges, implant-supported bridges do not require us to file down the neighboring teeth on either side. This preserves the integrity of the adjacent natural teeth. The stability provided by implant-supported bridges allows individuals to speak, smile, and eat without hindrance.

An individual should have good oral health to be a suitable candidate for an implant-supported bridge. Sufficient jawbone tissue is needed to securely support the titanium rods. If someone has experienced bone loss, a sinus lift or bone graft may be recommended to restore the upper or lower jaw bone mass. Any existing tooth decay or gum disease must also be treated before proceeding with dental implant surgery. It's important to note that individuals with uncontrolled diabetes may not be eligible for dental implants. We're happy to discuss alternative options for any individuals who may not qualify for an implant-supported bridge.
Implant-Supported Bridge Cost
Understanding implant-supported bridge costs is critical when considering this dental restoration option. While exact costs vary depending on factors such as the number of implants required and the complexity of the case, it's essential to consider the long-term benefits and enhanced quality of life that implant-supported bridges offer. At Kelowna Dental Centre, we are committed to providing transparent pricing and flexible in-house financing to make implant-supported bridges accessible to as many individuals as possible.
Implant-Supported Bridges Before and After
The remarkable transformations achieved with implant-supported bridges are truly amazing. From restoring their ability to chew and speak comfortably to revitalizing their self-confidence, these success stories exemplify the life-changing potential of this dental solution.

At Kelowna Dental Centre, we're dedicated to helping our patients achieve optimal oral health and regain their natural, radiant smiles. Our team's expertise and commitment to personalized care ensure that every patient receives a customized treatment plan designed to meet their unique needs and goals. Don't just take our word for it; explore our before and after gallery to see the remarkable dental implant results for yourself and envision the possibilities that await you.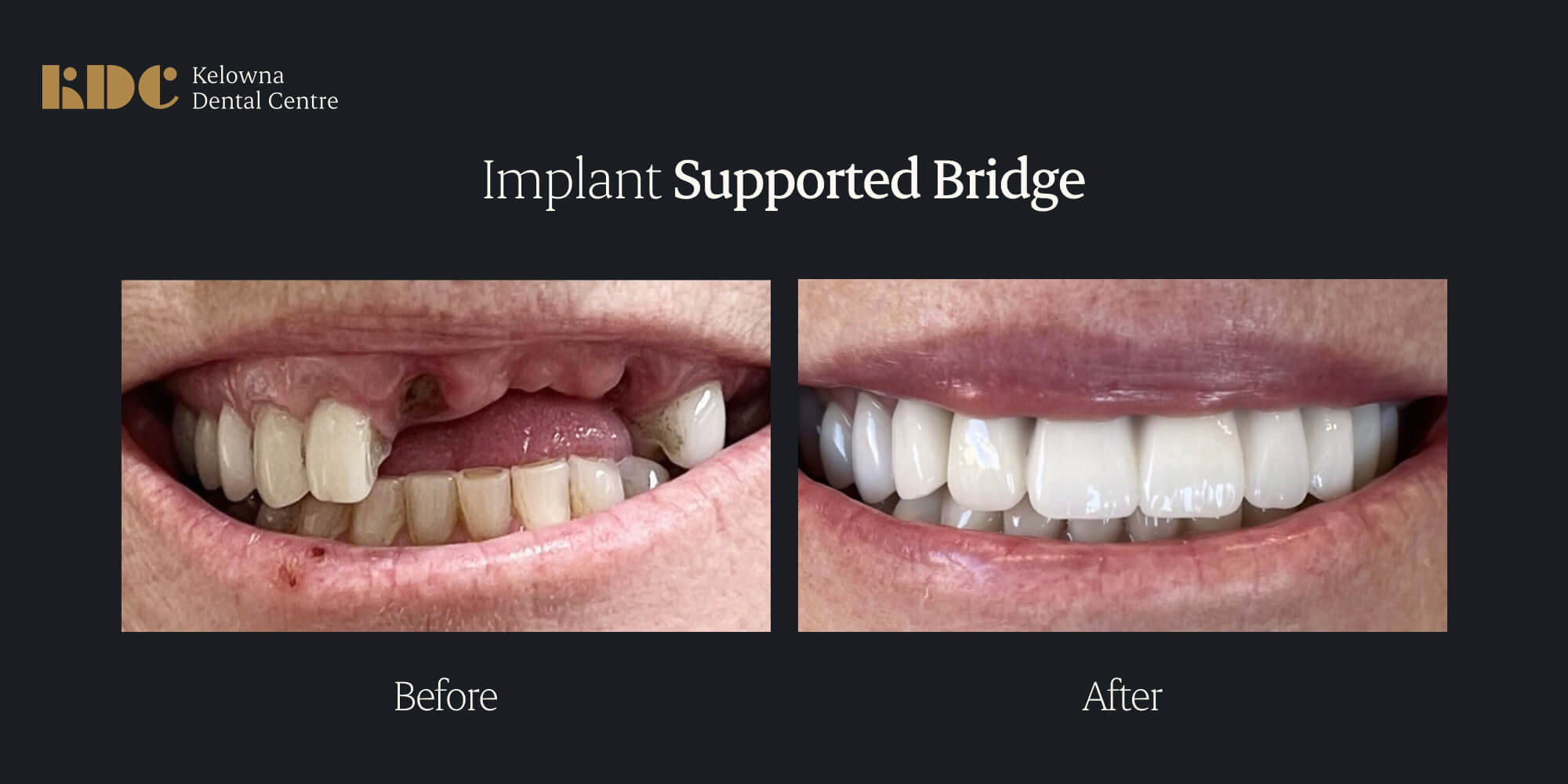 Dr. Michael Webster: Your Trusted Implant-Supported Bridge Dentist
Since purchasing and re-founding Kelowna Dental Centre in 2013, my commitment to innovation, excellence in dental care, and patient-centricity have remained our clinic's defining features. As your trusted implant dentist, I'm proud to serve our patients through my extensive experience, knowledge, and dedication. My entire KDC team is committed to delivering comprehensive, customized, and reliable dental implants.

I've travelled the world to earn industry-leading dental implant credentials and deliver the results our patients dream of. Click here for a complete list of my dental implant credentials.
Implant-Supported Dentures at Kelowna Dental Centre
Implant-supported bridges offer a strong, reliable, and long-lasting solution for individuals with multiple missing teeth. By utilizing dental implants as artificial tooth roots, these bridges provide stability, durability, and improved oral function.

If you're considering implant-supported bridges to enhance your oral health and quality of life, schedule a consultation with us at Kelowna Dental Centre. Our experienced team will assess your unique needs, create a personalized treatment plan, and guide you through the transformative journey of obtaining an implant-supported bridge. Say goodbye to gaps in your smile and hello to a confident, functional, and natural-looking set of teeth.

Together, we'll make your dream smile a reality.

We can't wait to care for you!

Dr. Michael Webster

Kelowna Dental Centre Owner
Implant Dentist Kelowna
Implant-Supported Bridge Dentist
Kelowna Implant Dentist
Dental Implants Kelowna